Motus Art
Creative Coding and Generative art.
https://www.instagram.com/motus_art/
You can now purchase Motus Art designs on Canvas prints, Posters, Tees, Notebooks and more.
Checkout the Motus Art store.
Latest work
Oscillating interactions (code)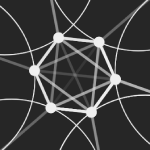 Full archive
About Motus Art
Motus Art is a creative coding art project of coded animation.
Weekly newsletter
Signup to the newsletter and be informed when new pieces are added.
Subscribe
License, share, learn
Feel free to edit, modify and learn from this code but you must credit a link back to this work. This project is licensed under the MIT License - see the LICENSE file for details.